The Jaden Yuki Starter, "The first Duel Academy's Starter", will feature popular cards from the Yugioh GX series. This ready to play 41-card deck is the perfect tool for young duelists who want to learn how to play the Yu-Gi-Oh! TCG.
Also included will be an updated graphical Beginner's Guide with a "How to Power-Up your deck" section, along with an all new Deluxe Game Mat and a Super and Ultra Rare card included in every deck!
The Jaden Yuki Duel Academy Starter will contain 41 cards per deck.
Release: July 2007
Contains:
- 41 Cards (1 Super Rare and 1 Ultra Rare)
- 1 Beginner's Guide
- 1 Deluxe Game Mat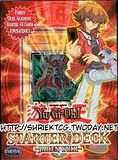 YSDJ-EN000
Elemental Hero Necroshade
Ultra Rare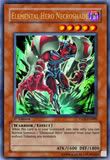 YSDJ-EN001
Cyber-Tech Alligator
WIND/Machine - Effect/5/2500/1600
Normal Monster
YSDJ-EN002
Gemini Elf
YSDJ-EN003
Sonic Duck
YSDJ-EN004
Elemental Hero Avian
YSDJ-EN005
Elemental Hero Burstinatrix
YSDJ-EN006
Elemental Hero Clayman
YSDJ-EN007
Elemental Hero Sparkman
YSDJ-EN008
Dark Blade
YSDJ-EN009
Poison Mummy
YSDJ-EN010
Mask of Darkness
YSDJ-EN011
Exiled Force
YSDJ-EN012
Little-Winguard
YSDJ-EN013
Mataza the Zapper
YSDJ-EN014
Ninja Grandmaster Sasuke
YSDJ-EN015
Chiron the Mage
YSDJ-EN016
Shadowslayer
YSDJ-EN017
Elemental Hero Bubbleman
Super Rare
YSDJ-EN018
Elemental Hero Bladedge
YSDJ-EN019
Elemental Hero Wildheart
YSDJ-EN020
Cybernetic Cyclopean
YSDJ-EN021
Rush Recklessly
YSDJ-EN022
Giant Trunade
YSDJ-EN023
Lightning Blade
YSDJ-EN024
Heavy Storm
YSDJ-EN025
Banner of Courage
YSDJ-EN026
Smashing Ground
YSDJ-EN027
Necklace of Command
YSDJ-EN028
Monster Reincarnation
YSDJ-EN029
Lightning Vortex
YSDJ-EN030
Brain Control
YSDJ-EN031
R – Righteous Justice
YSDJ-EN032
Lucky Iron Axe
YSDJ-EN033
Dust Tornado
YSDJ-EN034
Trap Hole
YSDJ-EN035
Magic Jammer
YSDJ-EN036
Compulsory Evacuation Device
YSDJ-EN037
Draining Shield
YSDJ-EN038
Sakuretsu Armor
YSDJ-EN039
Negate Attack
YSDJ-EN040
Magic Cylinder
Credit to the Picture to Suka044