Release: Late January - Early February 2008
JUMP-EN023
Van'Dalgyon The Dark Dragon Lord
DARK/Dragon - Effect/8/2800/2500
//Note: The effect is not the official TCG card effect, the wording will be different on the TCG card
Whenever a card that your opponent activated is negated by a Counter Trap, this card can be special summoned from your hand. When this card is successfully special summoned this way, one of the following effects would be activated depending on the type of the card that was negated.
- Spell: Do 1500 damage to your opponents Lifepoints
- Trap: Destroy a card on your opponent's field.
- Effect Monster: Choose a monster in your Graveyard and special summon it to your side of the field.
Secret Rare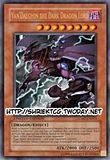 shriek |
Promos
| 13. Dec, 18:35