The assault is on! The third Yu-Gi-Oh! TRADING CARD GAME booster in the 5D's series, Crimson Crisis, introduces the new Assault Mode monsters. Synchro Monsters can be transformed to Assault Mode, making them incredible fighting forces with massive attack points and potent effects. This all new 100 card booster set will improve any Duelist's collection with new Synchro Monsters, Tuners, and new themes like the Dark "
Blackwing
" monsters. Duelists everywhere beware because the onslaught of Crimson Crisis is drawing near!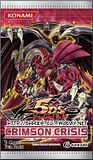 Selling Points:
You can transform your Synchro Monsters into Assault Mode, increasing their attack power and unlocking powerful new effects!
Includes 30 cards featured in the Yu-Gi-Oh! 5D's television series, including Yusei's "Hyper Synchron" and the fearsome "Flying Fortress SKY FIRE".
New Synchro Monster Cards and more bring new strength to Psychic, Plant, and Alien monsters.
100 card booster set featuring 10 all-new cards not available in Japan, including cards like "Dark Voltanis" that expand the power of popular decks.
CONTENTS:
48 Common Cards (8:1)
20 Rare Cards (1:1)
14 Super Rare Cards (1:5)
10 Ultra Rare Cards (1:12)
Release: 3th March 2009
Sneak Preview (Europe): 28th February/1st March 2009
Legal for local events: 28th February/1st March 2009
Legal for Premier Events: March 2009?