The
Jaden Yuki
and Syrus Truesdale Starter, 'The first Duel Academy's Starter', will be 2 character Decks featuring popular cards from the YGO GX anime. This ready to play 41-card deck is the perfect tool for young duelists who want to learn how to play the Yu-Gi-Oh! TCG. There will be characters featured on the box and display. The box will feature a window which will show a foil card.
In cluded in the box will be an updated graphical Beginner's Guide with 'How to Power-Up your deck' section in the front. Thos section will promote pack bying and Deck building in a fun graphical way. Also included will be a hip new 'Deluxe' style Game Mat and a Super and Ultra Rare card included in every deck!
Duel Academy Starter Display configuration: 7 Jaden decks and 3 Syrus decks per Display - 41 cards/deck
Release: 25th July 2007
Contains:
- 41 Cards (1 Super Rare and 1 Ultra Rare)
- 1 Beginner's Guide
- 1 Deluxe Game Mat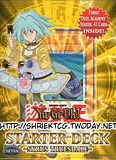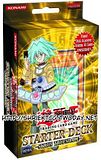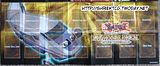 YSDS-EN000
Expressroid
EARTH/Machine - Effect/4/400/1600
When you Summon this card, you can add 2 "roid" monsters from your Graveyard to your hand, except "Expressroid".
Ultra Rare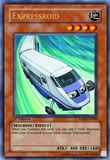 YSDS-EN001
Cyber-Tech Alligator
WIND/Machine - Effect/5/2500/1600
Normal Monster
YSDS-EN002
Robotic Knight
YSDS-EN003
Dark Blade
YSDS-EN004
Acrobat Monkey
YSDS-EN005
Archfiend Soldier
YSDS-EN006
Cycroid
YSDS-EN007
Jerry Beans Man
YSDS-EN008
Zure, Knight of Dark World
YSDS-EN009
Poison Mummy
YSDS-EN010
Mask of Darkness
YSDS-EN011
Dekoichi the Battlechanted Locomotive
YSDS-EN012
Chiron the Mage
YSDS-EN013
Patroid
YSDS-EN014
Gyroid
YSDS-EN015
Steamroid
YSDS-EN016
Drillroid
Super Rare
YSDS-EN017
Submarineroid
YSDS-EN018
Ambulanceroid
YSDS-EN019
Rescueroid
YSDS-EN020
Abaki
YSDS-EN021
Black Pendant
YSDS-EN022
Rush Recklessly
YSDS-EN023
Giant Trunade
YSDS-EN024
Heavy Storm
YSDS-EN025
Book of Moon
YSDS-EN026
Smashing Ground
YSDS-EN027
Enemy Controller
YSDS-EN028
Earthquake
YSDS-EN029
A Feather of the Phoenix
YSDS-EN030
Lightning Vortex
YSDS-EN031
Brain Control
YSDS-EN032
Trap Hole
YSDS-EN033
Magic Jammer
YSDS-EN034
Sakuretsu Armor
YSDS-EN035
Seven Tools of the Bandit
YSDS-EN036
Threatening Roar
YSDS-EN037
Negate Attack
YSDS-EN038
Magic Cylinder
YSDS-EN039
Rising Energy
YSDS-EN040
Supercharge
Credit to the Picture to Suka044