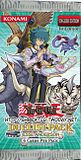 Duelist Pack 6: -Jaden Yuki 3-
Duelist Pack 7: -Jesse Anderson-
Now you can create your own Deck based on your favorite Yu-Gi-Oh! GX animates series character. With New Elemental Hero's in the Jaden Yuki 3 and Crystal Beast's in the Jesse Anderson Duelist Packs their moves and combos are at your fingertips. Just add these cards to your staple Deck and "Get your Game on!"
Key Selling Points:
Acquire Jaden and Jesse's best cards!
New cards in Jaden 3 and Jesse Duelist Packs never seen before outside of the cartoon.
A unique Strategy Card designed to further your skill with the character's Deck!
Modify a current Structure Deck or add them to a Starter Deck for your own take on the GX theme.
Increase multiple purchases with an enticing price point!
Each Duelist Pack
Jaden Yuki 3 & Jesse Anderson Duelist Pack contains:
5 cards and a Strategy card in every pack.
Collect 13 common cards (4:1), 6 Rare cards (1:1), 4 Super Rare cards (1:5), 2 Ultra Rare cards (1:24), and 10 Strategy cards per Jaden 3 and Jesse sets.
Configuration:
25 cards per Set of Jaden or Jesse
5 cards per pack of Jaden or Jesse
30 packs per box of Jaden or Jesse
10 boxes each Jaden and Jesse per Case 20 total
Release Date: 26th January 2008
"'Crystal Release' works with any Crystal Beast monster, but it's best with 'Crystal Beast Topaz Tiger' or 'Crystal Beast Sapphire Pegasus' (available as a Secret Rare in this year's Collector's Tins)."
Duelist Pack 6: -Yuki Judai 3- Spoiler
Duelist Pack 7: -Johan Anderson- Spoiler