'
Caius the Shadow Monarch
' makes a mighty arrival with the all new
Yu-Gi-Oh! structure deck, The Dark Emperor
! In troducing brand new cards and some highly desirable reprints, the all new structure deck allows players to banish opponent's cards to another dimension! This 40-card deck is built around '
Caius the Shadow Monarch
', a dark monster that may be one of the most powerful monsters found on a structure deckyet! Combine The Dark Emperor with your Dark army from the
Phantom Darkness
booster set and you're on your way to victory! Enjoyable for the intermediate player and containing strong cards for the tournament-level player, The Dark Emperor also comes with a rulebook, an exclusive playmat and a deckbuilding strategy guide that explains some of the explosive combos and some relevant cards from recently-released product to help build an even stronger deck. 40 cards/deck
Command the Dark Emperor, "Caius the Shadow Monarch" – the newest and greatest of the tournament winning Monarch monsters.
You can master the tactics of the Different Dimension monsters, including the rare "D.D. Warrior".
Combine "Caius the Shadow Monarch" with cards from Phantom Darkness to create the ultimate DARK monster army.
Banish your opponent's cards from the game with this ready-to-play 40 card Deck. A great introduction to a powerful strategy with a guide on how to add new cards to your Deck to make it stronger
Each deck contains 39 Common cards (39:1), 1 Ultra rare (1:1),
Deluxe customized Gamemat, Dueling Guide and Rulebook
Configuration:
- 40 cards per Deck
- 8 Decks per Display
- 12 Display per Case
Street Date:
2nd
8th April 2008
//Note that the picture might not be official
SDDE-EN001
Caius the Shadow Monarch
DARK/Fiend - Effect/6/2400/1000
When this card is Tribute Summoned, remove from play 1 card on the field. If it was a DARK monster, inflict 1000 damage to your opponent.
Ultra Rare
SDDE-EN002
Dimensional Alchemist
LIGHT/Fairy - Effect/4/1300/200
Once per turn, you can remove from play the top card of your Deck; this card gains 500 ATK until the End Phase. When this card is destroyed and sent from your side of the field to the Graveyard, you can select 1 of your removed from play monsters and return it to your hand.
SDDE-EN003
Samsara Kaiser
EARTH/Warrior - Effect/2/200/100
When you Tribute Summon a monster by tributing this card, return this card to your hand.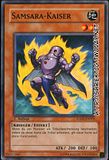 SDDE-EN004
Golden Homunculus
SDDE-EN005
Primeval Sun - Helios
SDDE-EN006
D.D. Warrior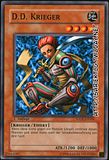 SDDE-EN007
Kycoo the Ghost Destroyer
SDDE-EN008
Bazoo the Soul Eater
x2
SDDE-EN009
Exiled Force
SDDE-EN010
D.D. Warrior Lady
SDDE-EN011
D.D. Scout Plane
SDDE-EN012
Chaosrider Gustaph
SDDE-EN013
Gren Manju Da Eiza
SDDE-EN014
D.D. Survivor
x 2
SDDE-EN015
D.D.M. - Different Dimension Master
SDDE-EN016
Banisher of the Radiance
x2
SDDE-EN017
D.D. Assailant
SDDE-EN018
D.D.R. – Different Dimension Reincarnation
Equip Spell Card
Discard 1 card. Select 1 of your removed from play monsters. Special Summon it in Attack Position, and equip it with this card. When this card is removed from the field, destroy the equipped monster.
SDDE-EN019
Mystical Space Typhoon
SDDE-EN020
Nobleman of Crossout
SDDE-EN021
Soul Release
SDDE-EN022
Reinforcement of the Army
SDDE-EN023
Dark Core
SDDE-EN024
Big Bang Shot
SDDE-EN025
Enemy Controller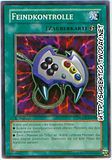 SDDE-EN026
Lightning Vortex
SDDE-EN027
Brain Control
SDDE-EN028
Dimensional Fissure
x 2
SDDE-EN029
By Order of the Emperor
Continuous Trap Card
You can choose to negate the activation of an Effect Monster's effect that activates when a monster is Normal Summoned (including itself). If you do, this Effect Monster's controller draws 1 card.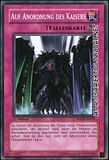 SDDE-EN030
Return from the Different Dimension
SDDE-EN031
Torrential Tribute
SDDE-EN032
Bottomless Trap Hole
SDDE-EN033
Sakuretsu Armor
SDDE-EN034
Karma Cut
SDDE-EN035
D.D. Dynamite
SDDE-EN036
Macro Cosmos